The Girl with No Name
The Girl with No Name Guys is the fourth official studio album by Sinclair Soul. Most of the songs were written during the pandemic days of 2020, concurrent with the material from Ric Albano's solo record thatyear, Out There Somewhere.
Recorded at the state-of-the-art Eight Days a Week recording studio in Northumberland, PA during 2020 and 2021, The Girl with No Name Guys once again features Albano teaming up with guitarist and multi-instrumentalist Bret Alexander and drummer Ron Simasek, both of whom were central on the previous Sinclair Soul albums, The Journey (2017), Reflections of Relevance (2018) and The Good Guys (2019).
Songs
Produced by Ric Albano
Recorded in Pennsylvania at Eight Days a Week, Saturtion Acres & Cygnus Wave studios.
Engineered by Paul Smith, Bret Alexander, Jake Albano & Ric Albano Bret Alexander
Mastered by Bret Alexander at Saturation Acres.
All songs were composed by Ric Albano (Cygnus Wave Music, ASCAP), except for "Dog Days" written by Albano, Bret Alexander (Bretlee Music, ASCAP) and Ron Simasek (United People's Temple of Rhombus Music, ASCAP).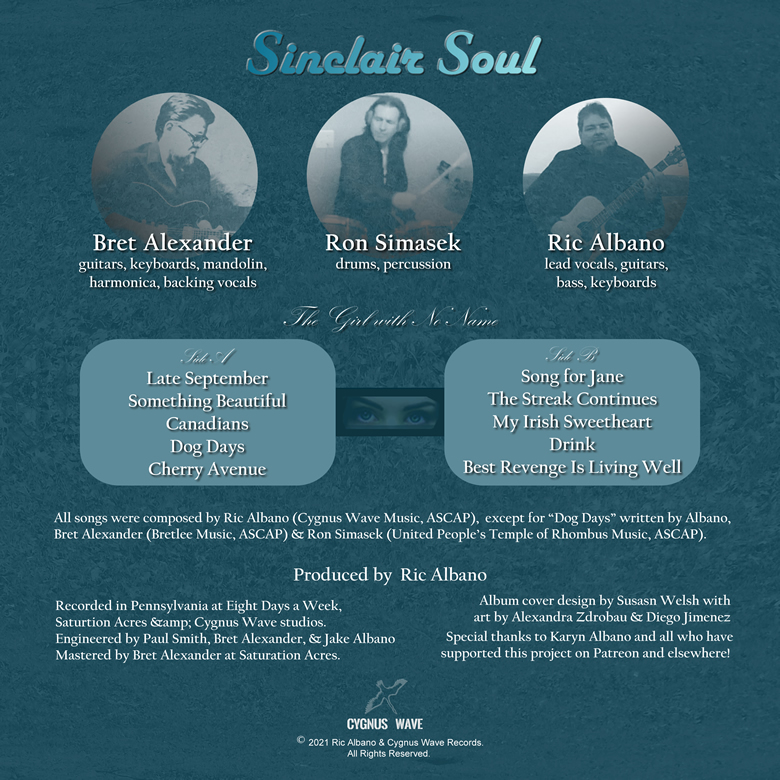 ~
Buy The Girl with No Name
Bandcamp
Reverbnation
Spotify
iTunes
Amazon
Line Music
iHeartRadio
Other media outlets where The Girl with No Name is available include 8tracks, Akazoo, Anghami, AWA, Deezer, Google Music, Great Indie Music, Groove, iHeart Radio, iMusica, K Digital, Kuack, Pandora, Rhapsody (Napster), Rumble Fish, Shazam, Slacker Radio, Tidal and YouTube Music.