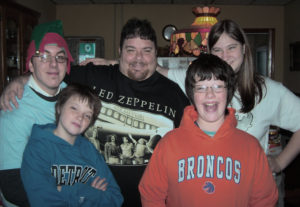 Although it appears last on the album, "Try Again" was the first song I wrote after finding my way back to acoustic guitar last summer. I had played guitar for several years but pretty much abandoned it in the early nineties as I focused on piano, keyboards and bass as my primary instruments. 
Musically, this song derived from a song of the same name which I wrote in 1992. That original song was a faster rock/pop oriented track that didn't quite work lyrically or harmonically. However I did like the original chord progression and re-purposed it in a country-like fashion. 
While working this out one day and trying to remember all my old guitar tricks, it dawned on me that the absence of the guitar almost directly correlated with  the presence of my children as I (not by design) gave up the guitar right around the same time I became a Dad.  So I instantly wrote some lyrics about the experience, joys and worries of being a father, using the song's title to initiate each verse. I was so taken by this tune that I performed it live just days after completing it. 
However, perfecting the recording was not so easy. In fact, I recorded four distinct versions over three separate recording sessions at Saturation Acres before finally getting the best version that I could. Joining me on this track is Bret Alexander, who adds plenty of atmosphere with a slide guitar, walking bass line and just the right touch of keyboards, and Ron Simasek who provided drums and some subtle percussion using a makeshift shaker consisting of a Pringle's can half filled with dry rice.  
Song Details
Track #7 on the 2017 album The Journey
Composed by Ric Albano in August 2016
Recorded at Saturation Acres in 2017
Produced by Bret Alexander
Ric Albano – vocals, acoustic guitar
Bret Alexander – electric guitars, bass, organ
Ron Simasek – drums
Lyrics
I'll try again to build a house that is stronger
Fortify the bonds a little longer
And reflect more on all things
From the conversations that I bring
Through the songs that I sing
I want to improve everything
I'll try again to keep the world a-grooving
Stability through the scenes that are moving
And to do more perfect deeds
Provide for the implicit needs
And heal the wounds when they bleed
On this I shall succeed
Although the intensity could get mad
There is no doubt that these are
The best days I've ever had
And I just want to be a good Dad
I'll try again to make the moments brighter
From those serious to those which are lighter
And give it everything I have
Through the good times and the bad
I want to be a good Dad
© 2016-2017 Ric Albano and Cygnus Wave Records